Hair growth can be irritating for all of us. But, to remove or not to remove? that is never the question! Because we always want to get rid of the coarse and dense hair growth.
We are aware of different hair removal techniques. Waxing and shaving are popular methods to remove body hair. Using hair removal creams is another widely-known method. Apart from these temporary and commonly used ways, individuals are increasingly moving towards more scientific hair removal processes such as electrolysis and the laser-induced method. 
These modern hair removal techniques take more time than the traditional ones because they aim to give you a permanent solution to recurring body hair growth problems. Needless to say, that hair removal is a lifestyle choice, and people are gradually accepting modern, technologically driven solutions. But clarity must be there before you get a procedure done.
Which method is best for you, considering your skin and hair color? More importantly, which one is less expensive and more effective? These and many other questions may cross your mind when you think of getting removal procedures done. 
Some people also need to know about the pain involved in a particular procedure before they can finally sign up for it. If you plan to go through a hair removal procedure and are confused between your options, we can help you through this blog.
Electrolysis & Laser Hair Removal: An Introduction
You must be familiar with the two techniques a little bit. Here are the textbook definitions: 
According to Britannica, Electrolysis is a hair removal method that requires the medical professional to send an electrical current through the hair follicles. The purpose is to damage the hair follicles to stop hair growth. 
WebMD defines Laser hair removal as a procedure in which the medical professional uses a laser or a concentrated beam of light to remove unwanted hair from a particular body area. 
Knowing more about these methods will help you make the decision finally. The two are strikingly different in process, price, and results. 
Table Comparison 
Here is a quick comparison for you to identify the differences at first glance. However, having a bird's eye view of the two procedures is not sufficient. You can skip to the detailed view after the table. 
| | | |
| --- | --- | --- |
| Parameters | Electrolysis | Laser Hair Removal |
| Number of Sittings Required  | Several sessions are required to completely stop the hair growth  | 6 sessions are needed just to destroy the follicles  |
| Permanent Hair Removal  | Yes | No  |
| Works for which hair type | All hair types  | Works on dark-colored hair  |
| Works for which skin type | Can work on all skin types  | Most effective on fair skin with dark hair |
| Can be used near eyes | Yes | No |
| Doctor's advice needed | Yes | Yes |
Detailed Comparison
Having some details can come in handy, especially if you are booking your first appointment.
The detailed pointwise comparison may answer some of your general questions about both techniques. 
How do they work?
This section focuses on how the two treatments work. When you know how the procedures occur, it is easier for you to pick one according to your comfort.
Electrolysis: Electrolysis is the only permanent hair removal procedure approved by the FDA. The method is safe when they take place under the supervision of a board-certified dermatologist or licensed electrologist. The process involves putting a probe into the hair follicle and passing an electric current through it, causing enough damage to the follicle to stop new hair growth.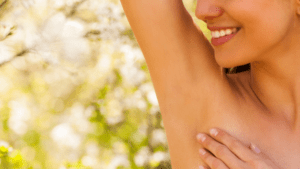 Laser Hair Removal: Laser hair removal involves mild radiation through high-heat lasers on hair follicles. The laser produces a light to be absorbed by the pigment present in the hair. The light energy evolves to heat, which later defiles the hair follicles to decline the hair growth.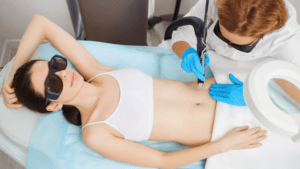 The lasers are quick to target coarse and dark hair. The treatment can treat a particular area with a bunch of hair at once. Laser hair removal can permanently reduce hair growth, but it does not eliminate unwanted hair forever. 
Is the treatment effective for all skin types?
You should focus on this section more if you deal with any type of skin allergy or sensitivity problems. 
Electrolysis: Electrolysis can work well for individuals with any skin type, much to the relief of individuals who have susceptible skin. However, taking your doctor's suggestion is always recommended because they know better about your allergies and precautions to take. They can also explain to you in detail the intervals at which you should go for the treatment.
The process of electrolysis is effective for all skin types and colors. It is also suitable for all hair types and colors. You can consider the method for any area of the body, including the eyebrows. 
Laser Treatment: The process can work incredibly well for dark hair and light skin individuals. It occurs due to the intrinsic design of laser that targets dark color hair on the contrasting light skin. As a result, the new growth tends to be thin and lighter. It can even be a few shades lighter than your original hair growth.
In how many sessions can I see the results?
Electrolysis: Several treatment sessions can help you get rid of your hair growth permanently. You require more than one session because the treatment targets follicles, and each hair has multiple strands. The resting follicles may start to regrow in between sessions. 
A follow-up session every other week or once in a few weeks can lead to 100% elimination in the area. Once the growth is gone, you do not need additional maintenance. It is an ideal solution for individuals who have busy schedules, and cannot repeatedly attend maintenance sessions. 
Laser hair removal: Generally, it takes individuals 4 – 8 treatments, evenly spread throughout the month. When satisfied with the slower growth, you can continue with occasional yearly appointments to maintain the decline. 
Which treatment to take for permanent hair removal?
Electrolysis: Electrolysis is effective in completely stopping hair growth. It is a proven method for permanent hair removal. No other hair removal treatment can claim the universal legitimacy and success offered by electrolysis treatments. Electrolysis is a permanent and safe method to remove all types of hair from all skin tones.
Laser hair removal: On the other hand, laser hair removal makes the growth slower than usual. It also leads to hair-thinning over the long run. The hair growth can be there even when the treatment is over. However, it will be finer and lighter in color than earlier.
The Costs Involved 
Electrolysis: A 30-minute long session may affordably cost around $55. The price mainly depends on hair type and area to be treated. Again, you can consult your doctor to know more about the costs. Considering that it is a permanent hair removal process, the prices are reasonable. 
Laser: Each session costs between $200-$400, depending on the area size to be treated and the treatment provider facility. It requires fewer sessions than electrolysis but is far more expensive. The overall cost can vary based on the number of sessions you need.
Please consider that the insurance does not cover both types of treatments because of their cosmetic nature. 
How painful is it, and what's it like after treatment? 
Electrolysis: The process involves sending an electrical current through the follicles. For some, it is discomforting, with a pricking or stinging sensation. The professional may advise you to take a pain reliever sometime before a treatment session and apply an ice pack after it. 
You may feel some irritation and redness for a while that vanishes soon when you apply topical creams. However, the aftercare is almost no to minimal. Most individuals return to their routine after the treatment. 
Laser: Some individuals describe it as burning rubber snapping against the skin. You may feel more burn with coarse and dark hair. However, it is less painful than electrolysis, but some professionals may use chemicals that do not turn out well for some individuals. 
If you feel the burning sensation for long, your doctor may recommend over-the-counter pain relief medicines or creams. However, the recovery time is less. 
General Tips:
You should check the certificates of the professionals who perform the procedure for you. They must have accreditations from the government or government-certified institutions. 

It is also essential to talk to the professionals about their experience and how quickly they can salvage any bad situation, if at all. 

Please take care that the professional uses fresh probes/needles or any single-use medical equipment. Such equipment, when used twice, can be dangerous. 

If you are dealing with any skin allergies or conditions, please consult your doctor, before taking the treatment. 
Final Choice
Electrolysis is a permanent hair removal technique approved by trustworthy authorities such as FDA and American Electrology Association. The method is also affordable and requires no extra maintenance sessions once complete. It is also a comparatively older method that began in the late 19th century. 
On the other hand, laser hair removal does not have valid authority approvals. The method can only lighten your growth and not stop it permanently. If you have a set budget aside for cosmetic procedures, this treatment may override it. 
Electrolysis is ideal for all skin types, unlike lasers that work well for dark hair color and light skin tone. The former is a clean method, recommended by the authorities. You should consider all the factors and sign up for a suitable procedure. Don't forget to have a quick word with your dermatologist, so you know it's safe for you!
https://charene.com/wp-content/uploads/2021/12/banner.png
1260
2240
admin123
https://charene.com/wp-content/uploads/2019/04/rsz_charene-beauty-services-logo-a2-1-300x300.jpg
admin123
2021-12-22 17:40:38
2021-12-22 17:43:57
Electrolysis Vs. Laser Hair Removal: A Comparison Guide