The progressive path of science has touched every field: lifestyle, apparel, personal care, or beauty. As a result, today, we have innovative solutions for all our care and maintenance needs. LED light facial treatment is one such solution that can help you get smoother and healthier skin. 
However, so many facial choices in the market can confuse you. Some individuals also ask why they should go for LED facial or which LED light color will suit them. It is understandable for people to ask these questions before finalizing a facial treatment course for themselves. We aim to answer your queries with this blog, which highlights the benefits of LED facial skincare. 
What is the LED Facial Treatment? 
According to Medical News Today, "LED light therapy is a popular non-invasive skin treatment for acne, sun damage, wounds, and other skin problems." 
Web MD states, "LED light therapy is a skin treatment that does not use ultraviolet light. Instead, it uses skin-safe, low-level light in different wavelengths and colors." 
The first definition can help you understand the basic meaning of LED light therapy or facial. The second definition brings it a level ahead with terms like skin-safe, low-level light, and wavelengths.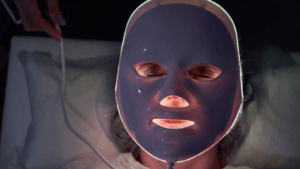 History
Interestingly, NASA developed this technique originally to conduct plant growth experiments on shuttle missions. However, in its development stage, the scientists found experiments promising for wound treatments. 
For Beauty Solutions
The LED facial treatment uses different wavelengths of light than can cure the skin. Hence, beauty professionals and aestheticians use light therapy to regenerate your skin from aging, reducing acne and skin damage. Here are some key points:
Unlike other treatments, light therapy with LEDs does not involve

cancerous ultraviolet rays

. Therefore, experts consider them safe for regular use. 

LED light therapy does not usually cause burns, unlike other anti-aging treatments like dermabrasion, chemical peels, and laser therapy. 

The best part – it is a

safe beauty treatment method

and has shown promising results. The treatment is getting popular with individuals who like to try scientific skincare methods with a brilliant safety profile.  

You may see rare or no side effects with LED treatment. The side effects can include mild redness, inflammation, and rashes.
How does each LED light affect your skin?
Various LED colors – red, infrared, green, blue, and yellow – have different skin impacts. It is beneficial to know how each color interacts with the skin and helps to eradicate other problems like acne, aging signs, etc. When you have complete information about LED treatment, you can decide which treatment is ideal for your skin type and specific issues. Let's explore how each color affects the skin. 
Red-colored LED light is mainly known for its anti-aging effects. It acts as a healing hero for your skin by increasing collagen and elastin production. The red LED can also be practical to lessen fine lines & wrinkles. In addition, it stimulates circulation that helps the skin to glow. Red LED works on fibroblasts, which are skin cells that play a role in the formation of collagen. Collagen is a protein that forms a substantial percentage of connective tissue in the skin and aids in the recovery of damaged skin.
Infrared light is divided into three categories – near-infrared levels, middle-infrared levels, and far-infrared levels. Near-infrared light is ideal for wound healing and improved immune function. The middle-infrared levels can work best to stimulate & increase circulation and can promote muscle relaxation. Finally, far-infrared levels are used for detoxing.
Blue LED light is known for its strong antibacterial properties. It can stand powerful against the harmful bacterias that damage the skin. Blue light can reach and destroy bacteria that settles deep in follicles and pores. It is beneficial for congested skin, prone to breakout. You can notice a visible improvement in your skin after this treatment. 
Treatment-providing professionals commonly use blue LED light to treat acne. The light treats acne by lowering sebaceous gland activity, causing them to produce less oil, which can clog hair follicles and cause acne. Blue light also works effectively against Cutibacterium acnes, an acne-causing microbe.
The research suggests that green light works to reduce the production of melanin. It also lightens and diminishes existing pigmentation. It is also effective in tackling skin itching, irritation, and redness. 
The relaxing impact of green light is due to its absorption into the skin. Green LED helps lighten the hyperpigmentation patches, resulting in a more radiant complexion. The anti-inflammatory characteristics of the relaxing effect help to soothe the skin's surface. Green LED therapy can treat Dilated capillaries, sagging skin around the eyes, under-eye circles, hyperpigmentation, and sunspots.
Yellow LED light helps to rejuvenate the skin and works well for various skin problems. The therapy can also fast-track wound healing and improve blood circulation to the skin tissues. It can also visibly reduce the signs of aging, including fine lines or wrinkles. 
Yellow light has the ability to enter deep within the skin. Therefore, it can trigger the lymphatic system, helping remove toxins from the concerned skin area. Moreover, it can be effective for skin hydration. 
How does the procedure work?
You need to know how the LED procedure works so you know what to expect in a light therapy clinic. 
Various wavelengths of light in LED lights – blue, yellow, green, and red – penetrate the skin at varying depths. The reach of every LED light is different, and their penetration may trigger biological processes to rejuvenate and heal the skin. 
The treatment uses these different wavelengths to help you achieve glowing skin and cure conditions like acne. 
If any symptoms like redness, inflammation, or itching occur, your doctor or dermatologist can provide you with immediate solutions. 
How safe is blue light for skin?
Generally, blue light therapy treatment is a fast process. It almost always takes place as an outpatient procedure. The photodynamic therapy on high-risk areas for cancer treatment is excluded from this. 
Every individual loves their skin and wants the treatment to be in the best manner possible. When you visit a trusted clinic for LED skin treatment, the professional takes care of everything. For instance – 
They apply the medication topically to the treatment area if they use photosynthesizing drugs.

The professional may also advise you to stay out of the sunlight to achieve quicker and better results. Exposure to sunlight after treatment can also lead to side effects for some individuals. 
Please note, photodynamic therapy with Blue LED requires you to wear goggles if near eyes or avoid the eye area. 
Relevant Studies
Based on various scientific research, experts believe that blue LED light can significantly reduce activity in the sebaceous glands, small oil-producing skin glands. 
Blue light can also prevent the bacteria that leads to acne formation by causing inflammation. Animal research also suggests blue light can work towards healing third-degree burns.
Generally, LED light treatment is an effective cosmetic procedure, as per studies. Furthermore, these studies indicate that light therapy can be effective for a broad range of skin conditions, such as psoriasis and mild-to-moderate acne. If you have had any allergies in the past, you can always ask your doctor for advice. 
As the American Academy of Dermatology states, most individuals with acne can notice refinement in their symptoms through LED light therapy. However, it is essential to take multiple treatment sessions before seeing the results. The professional may also recommend some follow-up sessions for maintenance. 
Other Treatment Specifications
The treatment sessions can take from 15 to 90 minutes long. The time depends on the area on which treatment takes place – how large it is and other things. Individuals with depression or depression with a pattern can opt for their own light therapy devices for use at home. 
Personal Vs. professional LED devices 
Both personal and professional LED light therapy devices are reliable to use. However, one must consider their convenience while deciding which option they want to choose. If you are a busy professional, who cannot attend sessions dedicatedly, you can opt for a home-use device. There are trusted personal care brands like Celluma that provide safe, proven, and effective products. Celluma light therapy is FDA approved to treat acne, wrinkles, arthritic pain, and muscle spasm. You can easily use the device at home. 
On the other hand, you cannot deny that a professional's experience and skills can be highly beneficial for your skin. Clinic sessions can produce faster results. Just ensure that you consult a trustworthy service provider like Charene Beauty Services. 
At Charene's, you can find various services to choose from. Working with only experienced professionals, Sarah aims to provide superior quality services that are economical. For example, anti-aging, calming LED light therapy treatment starts at just $15. 
So, wait no more, consult your doctor and book an appointment today to get a radiant skin and confident look. 
https://charene.com/wp-content/uploads/2022/01/1.png
579
1030
admin123
https://charene.com/wp-content/uploads/2019/04/rsz_charene-beauty-services-logo-a2-1-300x300.jpg
admin123
2022-01-10 20:18:19
2022-01-10 20:19:44
Benefits of LED Facial