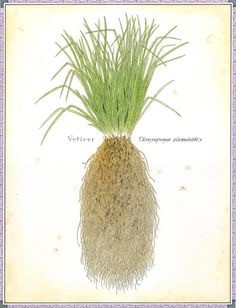 Chrysopogon zizanioides, commonly known as vetiver (derived from the Tamil: வெட்டிவேர் věţţivēr) is a perennial bunchgrass of the Poaceae family, native to India. In western and northern India, it is popularly known as khus.

Vetiver is most closely related to Sorghum but shares many morphological characteristics with other fragrant grasses, such as lemongrass (Cymbopogon citratus), citronella (Cymbopogon nardus, C. winterianus), and palmarosa (Cymbopogon martinii).
Vetiver is mainly cultivated for the fragrant essential oil distilled from its roots. In perfumery, the older French spelling, vetyver, is often used. Worldwide production is estimated at about 250 tons per annum.[12] Due to its excellent fixative properties, vetiver is used widely in perfumes. It is contained in 90% of all western perfumes. Vetiver is a more common ingredient in fragrances for men; some notable examples include Dior's Eau Sauvage, Guerlain Vetiver, Mr. Vetiver by Une Nuit a Bali, Zizan by Ormonde Jayne and Vetiver by L'Occitane.
Indonesia, China, Haiti are major producers.[12] Vetiver processing was introduced to Haiti in the 1940s by Frenchman Lucien Ganot.[13] In 1958, Franck Léger established a plant on the grounds of his father Demetrius Léger's alcohol distillery. The plant was taken over in 1984 by Franck's son, Pierre Léger, who expanded the size of the plant to 44 atmospheric stills, each built to handle one metric ton of vetiver roots. Total production increased in ten years from 20 to 60 tonnes annually, making it the largest producer in the world.[14] The plant extracts vetiver oil by steam distillation. Another major operation in the field is the one owned by the Boucard family. Réunion is considered to produce the highest quality vetiver oil called "bourbon vetiver" with the next favorable being Haiti and then Java.[citation needed]
The United States, Europe, India, and Japan are the main consumers.
The oil is amber brown and rather thick. Its odor is described as deep, sweet, woody, smoky, earthy, amber, and balsam. The best quality oil is obtained from 18- to 24-month-old roots. The roots are dug up, cleaned, and then dried. Before the distillation, the roots are chopped and soaked in water. The distillation process can take up to 24 hours. After the distillate separates into the essential oil and hydrosol, the oil is skimmed off and allowed to age for a few months to allow some undesirable notes forming during the distillation to dissipate. Like patchouli and sandalwood essential oils, the odor of vetiver develops and improves with aging. The characteristics of the oil can vary significantly depending on where the grass is grown and the climate and soil conditions. The oil distilled in Haiti and Réunion has a more floral quality and is considered of higher quality than the oil from Java, which has a smokier scent. In the north of India, oil is distilled from wild-growing vetiver. This oil is known as khus or khas, and in India is considered superior to the oil obtained from the cultivated variety. It is rarely found in commerce outside of India, as most of it is consumed within the country.[15]

Medicinal use Edit
Vetiver has been used in traditional medicine in South Asia (India, Pakistan, Sri Lanka), Southeast Asia(Malaysia, Indonesia, Thailand), and West Africa.[16]
Old Tamil literature mentions the use of vetiver for medical purposes.
https://charene.com/wp-content/uploads/2021/10/blog-10.jpg
308
236
admin123
https://charene.com/wp-content/uploads/2019/04/rsz_charene-beauty-services-logo-a2-1-300x300.jpg
admin123
2021-10-26 12:43:31
2021-11-23 21:47:55
Vetiver Essential Oil of the Month by Charene Beauty Services