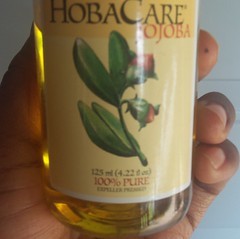 First off let me say that I personally love facial oils when the correct oil is matched up with the correct skin type and condition.  When used correctly facial oils can do wonders for the skin!  I know what your thinking, "what put oils on your face, that's crazy!"  For centuries people have used oils in skincare especially the ancient Egyptians, Greeks, and Romans.  Avoiding oils can actually exacerbate an acne problem. Stripping the skin of its natural oils causes dehydration, which can lead to the overproduction of sebaceous oil (sebum). Without sufficient hydration, excess sebum can create clogged pores and eventually breakouts.
The skin-the body's largest organ naturally excretes oil, so using it to replenish, cleanse and hydrate seems fitting. In fact, in some countries, like Japan, using oil-based skin-care products is the preferred way of caring for the skin. Such as with cleansing oils, yes that's right, oils or oil blends are specifically designed to use in place of your cleanser.  I personally recommend cleansing oil for dry and mature skin only or as a makeup remover or first cleanse followed by a second cleanse with a traditional cleanser.  As we age, moisture levels in the skin drop, causing it to become dry and dehydrated, in turn making fine lines and wrinkles more noticeable. You may be surprised to learn that a large majority of skin-care products boast an oil agent as the main ingredient.
But how does oil work with skin? Because oil is an emollient, it fills in the spaces between the cells in the upper levels of the skin. By replacing these essential lipids, products that are oil-based smooth, and lubricate rough skin. Because of their chemical structure, the skin more easily absorbs oils than water-based moisturizers.
Oils can do many things for your skin:
Calm
Purify
Cleanse
Act as an antiseptic
Act as a moisturizer
Act as a barrier to seal in moisture
Protect your skin against the elements, wind, and the cold, for example
Provide nutrients such as vitamins and minerals to your skin
rich in moisturizing fatty acids, including omega-3, -6, and -9, which strengthen the skin's lipid layer and help stabilize natural oil production
Plant-based oils are non-comedogenic, meaning they're not likely to clog pores and cause breakouts.
Application tips
• Since oils lack the water component of creams, it's best to apply them immediately after cleansing, while skin is still moist, so the oil can lock in the moisture.
• Massage in and remove extra if need with toner on a cotton pad.
• Blend oils to fit your skin type and conditions, add essential oils again to fit your skin type or conditions to customize.  (You can always buy a pre-formulated facial or hair oil, but they tend to be pricey.)
• If your skin is particularly dry, rich oils are ideal. Try layering oil on top of your regular lotion or moisturizer for the ultimate moisture-locking effect
• You might also like the regimen of using a hydrating facial mist just before you apply the oil. Again, the facial oil will lock in the water to keep the skin hydrated longer.
• Try this lymphatic drainage technique to help reduce facial puffiness: Apply oil with your fingertips using light, sweeping movements in a downward motion. Then press and release your fingertips, moving down your face, and finish by tapping very lightly all over.
Ease into it
If smoothing an oil onto your face still sounds daunting (and if the prices are more than what you typically spend on skincare), many mainstream brands are responding to consumer demand for natural ingredients by incorporating plant-based oils into their creams and serums.
Oil:                                     Skin Type or Condition:
Grape Seed                                   All Skin Type
Hazelnut (nut)                                       Oily or Acneic
Almond (nut)                                          All Skin Types, Sensitive, Dry or Mature
Olive (fruit)                                                Dry, Mature, Dehydrated
Avocado* (fruit)                                       Rosacea, Sensitive, Hyperpigmentation,  psoriasis, and eczema
Pomegranate (fruit)                               Hyperpigmentation, Oily
Jojoba (nut)                                             All Skin Types, Dry, Acneic
Rose Hip* (plant)                                   dehydrated, aging, scarred                                                                                                            hyperpigmentation
Apricot Kernel (fruit)                           Mature, Sensitive, Rosacea, Boils, Inflammation
Argan (nut)                                               All Skin Type, Pre-shower Hair Conditioner,
Peanut (nut)
Saffaflower (plant)
Sunflower Oil (plant)
Sesame (plant)
Kukui (nut)
Neem (fruit/plant)                              Pre-shower Hair Conditioner
Coconut (nut)                                        Pre-shower Hair Conditioner,
Castor                                                       Pre-shower Hair Conditioner, Massage into face prior to facial extractions to purge sebum and debris then remove
Emu (animal)                                          Dry or Mature
Wheat Germ                                             Acneic, Dry, Mature
*Refrigerate
https://charene.com/wp-content/uploads/2021/10/blog-6.jpg
239
240
admin123
https://charene.com/wp-content/uploads/2019/04/rsz_charene-beauty-services-logo-a2-1-300x300.jpg
admin123
2021-10-26 18:02:07
2021-11-23 21:34:40
Facial & Hair Oils, not as scary as you would think! – Secrets from Charene Beauty Parlour